1545 Novae Insvlae XXVI Nova Tabvla Map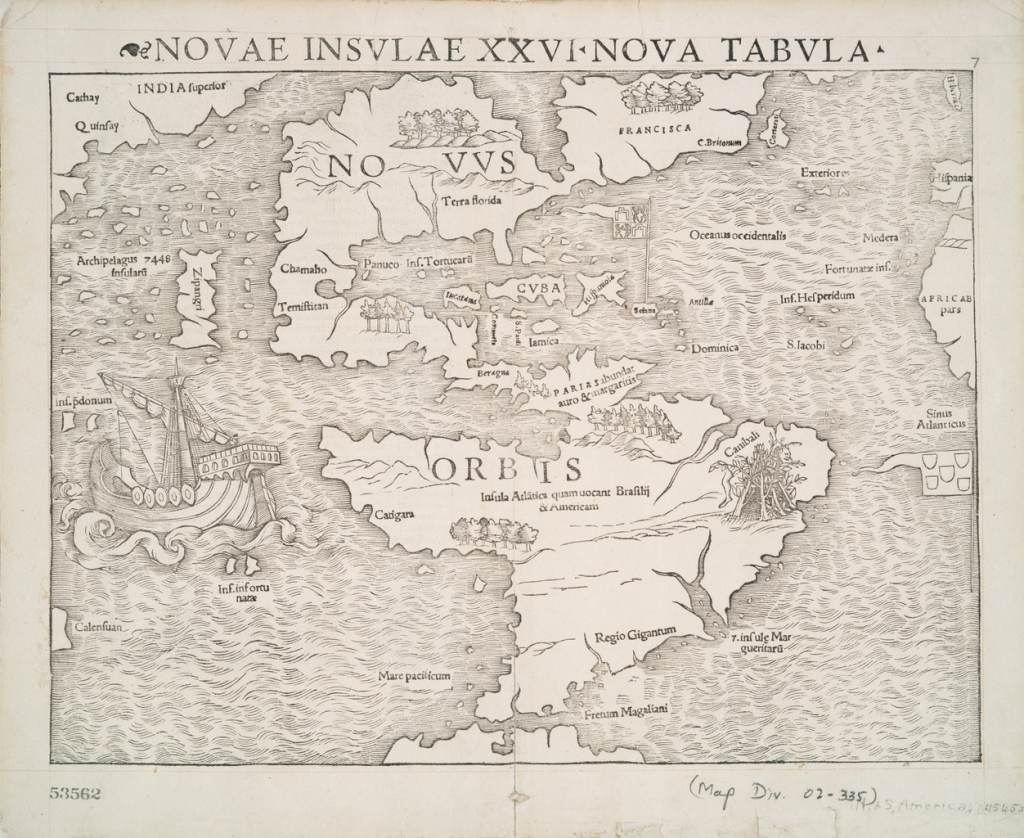 ABOUT THE ARTIST
Mapped Out
MappedOut specialize in the design and sourcing of iconic maps and atlas based artwork for the wall. From vintage maps and detailed ordnance survey maps to quirky illustrated maps, typographic maps, personalized maps to record your travels and many other inspiring visuals of the globe.
1545 Novae Insvlae XXVI Nova Tabvla Map
Novae Insulae XXVI Nova Tabula is the First Map of the Continent of America. Woodblock relief print in ink with metal plate used for text. Re-printed in high-resolution by Stuckup using archival inks on heavyweight matte art paper. Background: North America is labeled as "Terra florida" and "Francisca" with a small area marked as "C. Britonum" on the east coast of Francisca. Yucatan is depicted as an island and the lake of Temistan is shown emptying into the Gulf of Mexico. Also included are the Straits of Magellan. Magellan's ship "Victoria" is depicted in the Pacific Ocean. A cannibal in Brazil, the Portuguese flag in the South Atlantic, and the Spanish flag in the Caribbean Sea are also shown. Of note, the mythical Sea of Verrazano is shown above "Terra florida" connecting to the Pacific Ocean where Japan or "Zipangi" and several small Pacific islands next to "India Superior" exist. Contains printed border of bars representing latitude and longitude. Sebastian Müenster (1489-1552) was a major writer, scholar, cosmographer and cartographer (Short, 108; Tooley, 454; Portinaro and Knirsch, 317). In 1505, Müenster entered a Franciscan order in Heidelberg. He later studied mathematics, geography, astronomy, cosmology and Hebrew. He produced 80 books on religion. He published several editions of Ptolemy's "Geographia" with many of his own woodcut maps including this map. Müenster was one of the first cartographers to make use of metal plates to print text on woodcut maps (Skelton, 39-40; Burden, 15-7). He also invited other mapmakers in Germany to send him maps of their local areas so that he could combine them into an accurate map of Germany. In 1544, he published his best known work "Cosmography" in Geneva. In its fist edition, "Cosmography" contained 659 pages including 520 woodcut maps and drawings. In1548, this work contained 818 pages and 725 woodcuts. In 1550 the work contained 1,233 pages and 910 woodcuts. Throughout the sixteenth century this work was extremely influential and considered a major source of "geographical, historical, and scientific knowledge" (Short, 108-9). Müenster's work contains a heterogeneous set of knowledge including explanations of "the phoenix, goblins, and spirits." It also contains material discussing "the one-eyed and large-eared people who were supposed to inhabit parts of India," information about latitude and longitude, and royal genealogies. The work also contains maps of many different types including world maps, country maps, regional maps and city maps (Short, 109). This map was first published in 1540 as Plate XXVII in Müenster's Ptolemy's "Geographia" and it was the first map to depict the two American continents as connected to each other without a link to another continent (Schwartz and Ehrenberg, 45, 50). Later editions of this map appeared in Müenster's "Cosmographia" with the plate number changed to XXVI as it is depicted here. The map perpetuates the explorer Giovanni da Verrazano's idea that the area between Pamlico and Albermarle Sound along the Carolina Banks was an isthmus with a sea above it connecting to the Pacific Ocean (Burden, 15-17; Portinaro and Knirsch, 36; Bricker, 214). The map follows accounts from Marco Polo describing Japan and the other islands in the Pacific. The land explored by France in North America is labeled as "FRANCISCA," named after France's rule, Francis I. This particular edition of the map, published in 1552 in "Cosmography," is the only edition to include latitude and longitude bars along the border outside the map (Burden, 15-17). This edition also includes the German text "Die Nüw Welt" while the rest of the map's text is in Latin.
Printed by Stuckup on heavy weight, fine art paper with a subtle luster finish using vibrant, museum-grade archival Epson inks in high-resolution. Choose to have this print framed or unframed using the options above. Comes with free U.S. shipping, or budget-friendly international shipping, and every order at Stuckup is covered by our 60 Day Returns Guarantee 😊.
Dimensions & Details
External Width:
External Height:
External Depth:
Inks:
Paper:
Glass:
8"
8"
0.2"
Museum-grade Archival Inks
Luster Fine Art Paper
UV Acrylic
Frame Material:
Original Media:
Made by:
Hardware:
Shipping:
Returns:
Oak wood
Illustration
Stuckup in the U.S.
Included
Free Shipping
Free Returns