Quintessential Guide — Part I: Yaaas Queen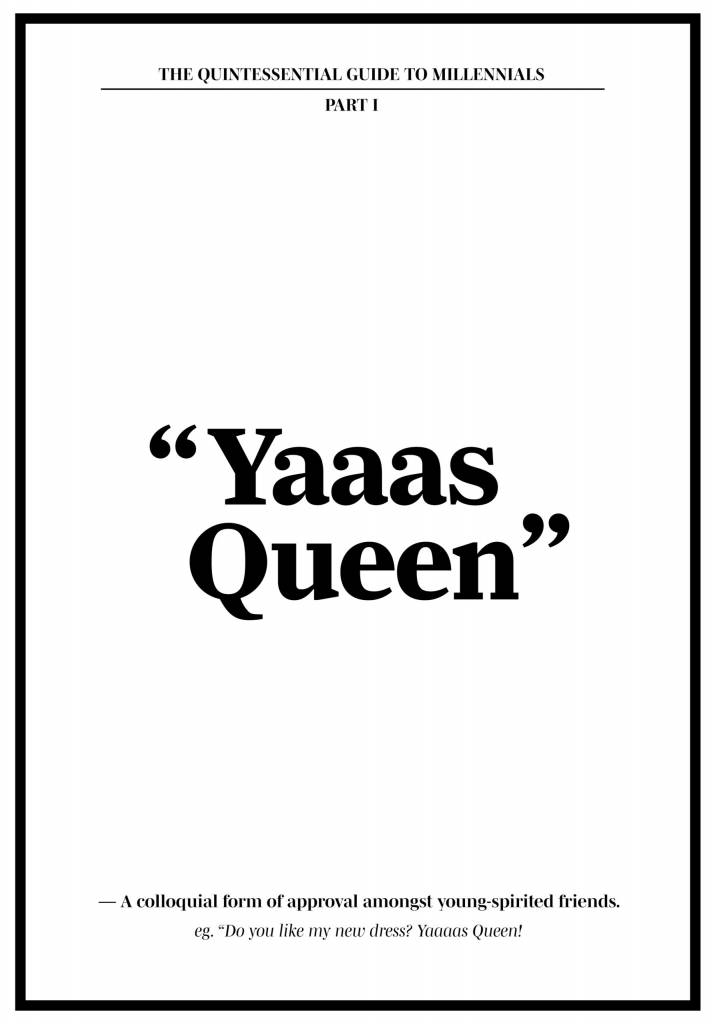 ABOUT THE ARTIST
Melissa Thomson
Millennial Motel specializes in creating quirky designs that poke fun at modern day society, questionable habits, lazy emoji-fed linguistics and pop culture.
Quintessential Guide — Part I: Yaaas Queen
The Quintessential Guide to Millennials is a seminal collection of prints design to remove the mysteries behind the language deployed by younger generations in today's post-modern society. Want to educate Grandma so that she can stand a cat-in-hell's chance of understanding her grandkids? Then The Quintessential Guide is for you! Make a perfect gift for hanging in a hallway or a downstairs loo. Part I: "Yaaas Queen" Choose The Quintessential Guide framed or unframed, in a size of your liking.
Printed by Stuckup on heavy weight, fine art paper with a subtle luster finish using vibrant, museum-grade archival Epson inks in high-resolution. Choose to have this print framed or unframed using the options above. Comes with free U.S. shipping, or budget-friendly international shipping, and every order at Stuckup is covered by our 60 Day Returns Guarantee 😊.
Dimensions & Details
External Width:
External Height:
External Depth:
Inks:
Paper:
Glass:
8"
8"
0.2"
Museum-grade Archival Inks
Luster Fine Art Paper
UV Acrylic
Frame Material:
Original Media:
Made by:
Hardware:
Shipping:
Returns:
Oak wood
Digital
Stuckup in the U.S.
Included
Free Shipping
Free Returns